Knowledge Economy
Practical Steps towards turning Hong Kong into a
Knowledge Based Economy
By Stephen Selby, Director, Intellectual Property Department, HKSAR Government and
Convenor of the APEC Intellectual Property Rights Experts' Group
Tuesday, May 13, 2008
The 2007 APEC Leaders' statement issued on 9th September 2007 included the following text:
"[Leaders]… agreed to continue to strengthen protection and enforcement of intellectual property rights (IPR) in the region. We recognised that a strong knowledge based economy requires a comprehensive and balanced IPR system, as well as an environment that encourages creativity and innovation and provides the tools for successful management and utilisation of IPR. We also agreed to continued efforts by APEC economies to combat the sale of counterfeit and pirated goods at markets involved in this activity."
What are the implications of the APEC Statement?
This high-level statement indicates that the APEC Leaders recognise the importance of IP rights and of fostering a business climate in which they are respected and effectively exploited as two of the pre-requisites for performance in the knowledge based economy.
Hong Kong, both as a developing knowledge city and as a bridge between China and the western world, possesses advantages that can be leveraged to consolidate our position as one of the knowledge economy leaders in the region. However, there are also certain gaps which need to be addressed.
Closely related to the APEC Leaders' Statement on IPR are the wishes express in Mainland's 11th Five Year Plan to create "Self-initiated Innovation" and "Self-initiated IP Rights".
This leads to the question of what Hong Kong can specifically do to encourage creativity and innovation and provides the tools for successful management and utilisation of IPR.
Has Hong Kong fully exploited its unique position in the China and APEC Contexts?
Perhaps the key questions we should ask are:
Does Hong Kong have what it takes to become a true knowledge city?
We talk about developing creative industries and a knowledge-based economy; but are we able to explain to the business community how that can be achieved?
Have we properly appreciated the increased business risk associated with developing creative, knowledge based products, and are we prepared to lead business through the basic steps that are vital to mitigating those risks?
Should we help develop practices that make full use of Hong Kong's unique advantages, including the rule of law and its international networking capability that will have strong influence on economic transformation of Hong Kong and China?
The advantages which Hong Kong possesses among others are a long established rule of law (including IP law dating back to 1873), a practical understanding of business from both a Chinese and a Western perspective, a strong entrepreneurial spirit, a well developed modern transport system and a state-of-the-art internet infrastructure. These attributes all encourage the interplay of people with ideas and foster innovation.
To support this position, Hong Kong has invested heavily in universities and the Hong Kong Science and Technology Park (HKSTP) and other HKSAR Government sponsored research centres. However this may not be enough to allow Hong Kong to reach the forefront of the knowledge age because these initiatives do not filter down to the day-to-day management level of the great majority of Hong Kong SMEs operating in Hong Kong and the Mainland.
Further issues need to be addressed before Hong Kong can become a leader in the fields of:
Creating the best environment for value creation and networking

right inside individual enterprises rather than at the macro level.

Assembling and demonstrating the tools for managing intellectual assets and IPR.
Creating awareness among business people of the opportunities and risks posed by the developing knowledge economy both in Hong Kong and in overseas markets, and issuing a "call to action".
Leveraging the know-how in managing intellectual capital (including IPR) that is available today from the leading world practitioners.
Practical initiatives undertaken in Hong Kong and mainland China
To build on its already advantaged situation, Hong Kong needs to tap into the worldwide network of activities in innovation and the mining of intellectual capital. This work has already started; but it must be deepened and accelerated.
If Hong Kong is to become a leader in innovation, the fast track to achieving this goal is through espousing and promoting Intellectual Capital Management (ICM).
What is ICM?
Some individuals are born creative geniuses; but most enterprises can develop creative talent and innovation through training. ICM is a set of tools, which allows enterprises to tap into reservoirs of knowledge and expertise that they already possess, but may not be exploiting effectively. It also helps them to appreciate competitive pressures from outside economies and identify their needs to obtain improved knowledge and expertise (sometimes known as developing "social intelligence".)
In outline, the process involves:
Analyzing existing enterprise knowledge, recording it as far as possible and making it sharable within the enterprise. This becomes the enterprise's 'intellectual capital';
Identifying possible sources of revenue that could be extracted from existing intellectual capital and developing marketing plans for them; and
Assessing risks involved in protecting the enterprise's intellectual assets and using an effective intellectual property strategy to minimize business risk. From the enterprise's point of view, this is an extremely cost-effective way to start off on the road towards innovation and creativity. It can be applied to both the manufacturing and service sectors.
 Even if the exercise does not immediately identify any potential money-spinners for some small enterprises, the techniques for identifying risks and developing an IP strategy help enterprises save money and effort that result from dealing with IP infringement later on. They will help strengthen Hong Kong's IP compliance and develop robust supply-chain management, ensuring that our products and service continue to gain ready access to world markets.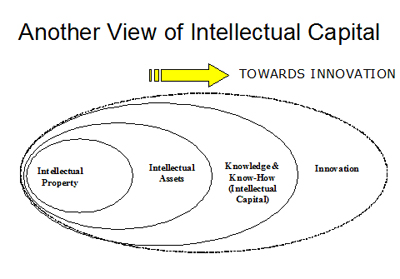 Developing the Intellectual Capital Management Concept in Hong Kong
There needs to be more focus in Hong Kong on Intellectual Capital Management. We need to enter into a deeper and broader dialogue with the other World IC Centres.
The development of this type of centre in Hong Kong is essential in order to provide the tools for successful management and utilization of Intellectual Capital and IPRs. In today's world, the way in which knowledge is created and used is inextricably linked with an understanding of ICM and how intellectual capital is created and used. The technique developed in the USA and Europe in the period 1990 – 2000 links ICM to the core business processes and IP Strategies of major multinational corporations. Recent developments in Intellectual Capital Management extend this approach to include training, coaching and management of knowledge workers in Small and Medium Enterprises.
The creation of such a network of facilitation centres throughout China is already a work-in-progress.
An agreement has been signed between the Scottish Intellectual Asset Centre (the first such center ever created) and the Asia Pacific Intellectual Capital Centre (APICC) in Hong Kong.
The APICC will be affiliated to a number of Intellectual Capital Centres in mainland China and around the world. The Network would build on local Hong Kong expertise, access and translate the pool of knowledge available across the world1 to meet the needs of Hong Kong enterprises operating in Hong Kong and mainland China.
Individuals, business enterprises, government and non-government organization in Hong Kong and are invited to lend endorsement and practical level support for this initiative in the form of:
Working with the APICC, Intellectual Property Department, Scottish Intellectual Assets Centre and other similar centres in mainland China and around the world in the "Knowledge Economy" initiatives. This initiative could be widely defined as value creation and value extraction through: promoting innovation, technology development, technology transfer and provision of Intellectual Capital Management as management level tools to enterprises.
Providing the management focus, physical space, administrative and other infrastructure support and focus to support the Intellectual Capital Management (ICM) initiatives within your own company or organization.
Participating as industry partners to the training and education programmes, research groups and workgroups to be initiated by the Intellectual Property Department and APICC.
[1]E.g. METI Protocol for IA Based Management, IA Centre Scotland Diagnostic Tools, InHolland University Degree Course in Sustainable Programme in Intellectual Capital Education, etc.